I love campaigns. They're involved enough that they require creativity and strategy. Meaty enough that you can sink your teeth in. And short timelines mean you can see results quickly.
If you're offering a new service or product, or simply want to reach your audience in a different way, consider a campaign.
* * * * * * *

MARKETING CAMPAIGN FOR THE KEPLER STORY
The Kepler Story is an immersive theater piece about 17th Century mystic and astronomer Johannes Kepler. Designed for planetarium domes, it blends traditional theater with immersive visuals, original music and cutting-edge sound design. Written and directed by Nina Wise, The Kepler Story was presented by Motion Institute in collaboration with CAS at Morrison Planetarium in October 2013.
Campaign Goals:  Our goal was to fill all seats and cover production costs. We also wanted to create a community around this work that explores the interconnectedness of science and spirituality.
Challenges:  A minuscule marketing budget meant we had to get creative with publicity and promotion. Another challenge was in "describing the indescribable"–conveying the experience of this completely new theatrical art form.
Results:  The show's first run sold out before opening night, so we added more shows, which also sold out immediately. The Kepler Story garnered fantastic press, reviews, and audience raves. A 2015 national tour is in development.
Components & strategies:  Given our limited resources, we had to be extremely creative, but also discerning about how to allocate our energies. We used social media and personalized outreach to create an invested community–one that included theater fans, scientists, artists, journalists, institutional partners, and fans. My role as marketing director included all aspects of developing and managing the marketing strategy and schedule.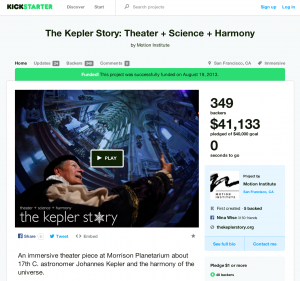 KICKSTARTER CAMPAIGN FOR THE KEPLER STORY
Part of our fundraising effort for the production of The Kepler Story was a 30-day Kickstarter campaign for $40,000. With a team of just three people and round-the-clock work, we made our goal, and then some. Three quarters of the money went to cover the fees of the 22 artists and tech people on our creative team, and the rest went to production and marketing.
Goals:  Simple, but not easy:  Raise $40,000.
Challenges:  Few Kickstarter campaigns are successful:  Only 44% of projects meet their funding goals.
Results:  Within the theater category, our campaign is one of only 3.7% of projects that were successfully funded at the $20,000 – $99,999 level.
Components & strategies:  Communication was first and foremost — communications with our supporters, our email list, website visitors, and with bloggers, scientists, and the press. We created exciting Kickstarter rewards, and produced several campaign-specific events. My role as marketing director included all aspects of developing and managing the marketing strategy and schedule.
OTHER CAMPAIGNS
I've created and helped develop campaigns for new products, services, and programs for a variety of organizations. Projects include insurance products, an educational program implemented within retail stores, and various other jobs. I'm happy to provide information/samples upon request.